News 17.10.2020 + Videos
---------------------------------
17.10.2020 -
We are open and wait for YOU
We hope you miss us same like we miss you and if you are able to come to Bali we would be happy to welcome you.
Stay safe and healthy and warm greetings
Suci, Family and Team
---------------------------------
Once again we received the "Travellers Choice 2020" Award from TRIPADVISOR.
We are very happy about that even the borders for international Tourism are still closed and we have only very seldom customers.
But we are open and we try hard to survive.
Thanks to everybody how helped that we received this Award.
Stay healthy and we all hope that we can meet you in the near future....
Hugs from
Suci and the TEAM
---------------------------------
05.08.2020 -
Dear guests and friends,

we hope you are well, although the times are very hard due to COVID19. Many people have lost friends and relatives. And many have lost their jobs and as a result their livelihood. Especially in countries without social security. Nevertheless, many of you have thought of us and made it possible for us to make some donation campaigns with food donations. We would like to thank you very much for this.

At the moment the situation is such that you can enter Bali with a valid health certificate but most of the airlines cancel flights. Therefore it is very hard for you to come to Bali. We are very sorry for that.

But for information: We have opened our company and diving is allowed again. Means we are ready to welcome guests.

We hope and pray that scientists will soon find a vaccine or antidote to the virus and that we can slowly return to normal.

For questions or bookings please contact us via email or WhatsApp or Facebook.
We look forward to hearing from you..............

Until then, all the best
Suci, family and team

---------------------------------
2020 - Another AWARD - We are very happy about that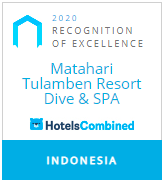 ---------------------------------

15.11.2019 -
BLACKWATER DIVING
If you look for new challanges and love to see something totally off the charts, we are sure you will fall in love to this speciality. Blackwater diving is a unique night dive and not only for photographers. Also for divers which like adventures and like to see somewhing very different. The sensational, alien-like creatures of the deep rise to the surface with the upwards migration of planktons to feed and breed in the dark sea.
You will have the opportunity to witnessing magical pelagic which you will never forget.

We organize BLACKWATER Diving daily. But it is not recommanded during FULL MOON or when we there are waves. Our experienced TEAM wait for you.
"Just come and let's have fun together"
---------------------------------
01.10.2019 - We are happy that we received the "2019 KAYAK Travel Award" and we want to join this with all of you. Thanks a lot for great reviews about your stay with us. Suci and the TEAM

---------------------------------
15.05.2019 - Another AWARD from TRIPADVISOR. Without great ratings and feedback we would not get this Award. And therefore we say "THANK YOU" to all our friends and custormers. Would be great to welcome you again.
Suci and the TEAM
---------------------------------
01.01.2019 - HAPPY NEW YEAR 2019
Time is running fast and we welcomed last night the YEAR 2019.

The year is new, the hopes are new, the aspirations and challanges are new, but our warm wishes for peace and healthy, happiness, laughers and friendship remains the same.
Looking back to the last 12 month there have been natural disasters around the world and we cross our fingers and pray that the new year will be more quiet and the nature will calm down.
No one can ever go to the past and change the things that happened. All we have to do is just work in the present to make our future better.
We wish everbody to have an everlasting happiness and prosperity.
Our special thanks goes to our "old" customers and friends which help to us to have a well running company. Would be great to see you all again and we would be also happy to welcome lot of new guests and friends.

Warm greetings
Suci, Family and the TEAM

"Just come and let's have fun together"
----------------------------------
01.11.2018
We love to explore new Dive Sides and we found out that there are several great dive spots in BONDALEM - TEJAKULA area. Bondalem Village is around 1 hour away from Tulamben. The Government protect this area and the ocean with coral conservation, reef check and several underwater artefacts.
The dive spots are great for macro or wide angel photographers. If you are lucky you can see for example Hairy Octopus, Stillinger, Frogfish, Doto sp., Janolus, Theracera, Ghost Pipefish, Sea Horses and Nembrota. To see the website from our Dive Center please follow the link:

Matahari Dive Tulamben in BONDALEM
We offer this diving daily on request from Tulamben and between the dives you will have lunch in a beach front Restaurant. There you can see how the people traditionally produce salt in two different ways. And you can try the difference when you taste the salt.
On the way back we can visit LES Waterfalls on request.
We hope you will enjoy to dive with us in the new place :-)
Warm greetings from Suci and the TEAM
"Tulamben is safe: Just come and let's have fun together"
----------------------------------
01.07.2018
We are happy to tell you: we have another place in Tulamben with swimming pool and free Wifi. Only around 2-3 minutes walk away from the Resort. To get an impression please follow the link:

Matahari Two Tulamben = MTT
MTT has 7 deluxe rooms for max. 15 persons (6x double/twin beds and 1x3 beds) with aircon, safebox, refrigerator, water kettle and view to Mount Agung. Great place for groups, families and friends.
Restaurant is onside but possible to take all meals in the Resort. You can combine our special offers with MTT (special promo rates).
Warm greetings from Suci and the TEAM
"Tulamben is safe: Just come and let's have fun together"
----------------------------------
We are happy to let you know that we received another Award. We got this informations today (05.04.2018):
"Matahari Tulamben Resort Dive & Spa has just been awarded the HotelsCombined Recognition of Excellence for 2018 in Indonesia for achieving the highest standards of Customer Satisfaction worldwide. Specifically to date, our team of data experts have found and processed 650 opinions that your guests have posted on a variety of different websites, forums and social media, resulting in a score of 8.5 out of a possible 10."
2018
RECOGNITION OF EXCELLENCE
HotelsCombined
"THANK YOU" to all our friends and guests which posted something nice about us and which are happy to stay with us. Many of you come again and again and again...... and we would be happy to see you soon :-) "
"Tulamben is safe: Just come and let's have fun together"
Suci and the TEAM
-------------------------------------
17.03.2018 - - - INTERNET will be OFF on NYEPI DAY for 24 hours!
All travelers to Bali must be aware that Bali celebrates on 17.03.2018
NYEPI DAY - Balinese New Year. A holy day of complete silence for Balinese Hindus.
All residents of Bali must remain indoors and no noise or outside activity is allowed. It starts from 06:00 hrs in the morning until 06:00 hrs on 18.03.2018. The streets, beaches and airport are completely closed as well.
Our kitchen will be open until 19:00 hrs for our Guests.
---------------------------------
And we got the AWARD on 25.01.2018 the 4th time: Because of all of YOU..........
Thank you very much to our friends, to all the nice people which visit us again and again and to the new guests which maybe come again in the future. We are very proud of all of you which helped somewho that we belongs to the 25 winners of Indonesia for the "Bargain" award.
Warm greetings from Suci and the TEAM
"Tulamben is safe: Just come and let's have fun together"
--------------------------------------
HAPPY NEW YEAR 2018 to all our friends and guests.
May God bless the World and make it safe for everybody.
Tulamben is safe and we would be happy to see you soon.
"Come and let's have fun together!"
Suci and the TEAM
MATAHARI will RE-OPEN on 16.12.2017
After talking with the Ministry of Foreign Affairs and the Volcano Institute we are very happy to announce that we reopen because they declare Tulamben as safe. The red zone is until 8 km and Tulamben is away 12 km from the crater of Mt. Agung. Therefore we are allowed to open.
"Thank you to Frank" for this great video.
Enjoy and have fun to see our place in April 2016
Tripadvisor Award 2016 - "TOP 25: BARGAIN Hotels Indonesia
Place 14 from 25 :-)
We received this award now the second time and we say "Thank you" to all of our friends and guests. We know without all of you we will not receive this award and we can not be successful. We are very, very happy that you all support us and we would love to see you all again.... smileeee.....
Warm greetings from Suci and the TEAM

NEWS about Visa-on-Arrival valid from 13.06.2015:
https://en.wikipedia.org/wiki/Visa_policy_of_Indonesia
If you follow the link you can check if you have to pay visa fee. Because now travelers from 45 countries can arrive without visa-fee. Be aware this visa you can NOT EXTEND and it is only valid for 30 days.
In case you have the plan to stay 60 days in Indonesia please go to the counter where you can apply for VISA-ON-ARRIVAL. Same like travelers from another 33 countries. You have to pay in the moment 35 USD for 30 day visa and can extend for 30 days.

Also if you buy flight ticket in the new tickets they include now the Airport fee for Departure. Means you don't need to pay 200.000 RP when leave Indonesia (but we listen this is only for new tickets).

Nyepi Day Information: March 31, 2014
Hari Nyepi Cakra 1936 (Bali Day of Silence).
This holiday is the Balinese New Year in the Hindu Lunar calendar. It called icaka New Year, the day of total silence throughout the island.
Great purification, sacrificial rites and spectacular procedure of ceremonies, parades of great bamboo monsters, and fireworks occur on the Eve of Nyepi to exorcize evil spirits from every corner of the island. Followed by a day of total silence and seclusion. The community strongly believes that if the island is silent and dark, the bad spirits will leave and the new year will start in peace. During Nyepi, from 6am until 6am the next day, the island stops. Nobody is allowed in the streets, use of electricity is restricted, and the international airport is closed. No fire may be lit for 24 hours. No activities allowed. Diving also not possible.
In 2014, Nyepi will fall on Tuesday, March 31. Please note that check-in and check-out will not be possible on Nyepi Day, and Ngurah Rai International Airport (DPS) will be closed. Some of the resort facilities will operate as usual; however, there will be no transportation services to and from the resort. Please no lights inside of the rooms (only candles) and there will be no outdoor lighting. The pool is available for your enjoyment.
Die Zeitschrift "Unterwasser" berichtet über neuen Divespot in Tulamben:
"Suci Place". Bitte folgt dem Link, um den Bericht zu lesen.
Video von 2013
Neues Video von Matahari Tulamben Resort, Tauchen in Tulamben und "Suci Place"